AttiCat Insulation

Up to a quarter of energy loss can occur through your roof and attic. The addition of insulation into the attic can mean big savings on your energy bill and make a huge impact on year-round comfort in your home. AttiCat is an industry-leading, choice solution for attic insulation. Completely hassle-free, adding insulation into your attic is much easier and much more efficient when the roofing contractor uses the AttiCat® Insulation machine! We can set-up the blowing machine virtually anywhere.

The AttiCat® Expanding Blown-In Fiberglas Insulation is conditioned by fluffing it, breaking it up and adding millions of small air pockets, which give the Fiberglas™ material its insulating capabilities. The insulation is further modified while it travels to your attic through the hose, air pockets are progressively added, increasing its insulating power even further. In view of the fact that Fiberglas insulation does not settle, it will keep its energy-saving R-value as time passes. With the proper baffle installation and light protection, you will have years of incredible energy savings.

Having an experienced roofing contractor use the AttiCat® Insulation machine to boost energy efficiency in your attic offers some other perks too:
1. In skilled hands, the self-feeding machine sends the Fiberglas™ material right where it is wanted, so installation is up to 25 percent faster than with other loose-fill materials. In fact, insulating a 1,000 sq. ft. attic to R-30 takes just 4 hours or less from start to finish.
2. The installation process creates little dust and clean up is fast and easy, because the Fiberglas™ insulation material gets released and expands inside the fully-enclosed AttiCat®machine.
3. AttiCat Fiberglas™ insulation is non-combustible yet contains no corrosive fire-retardant chemicals that can leach out and damage electrical wiring, pipes and other metal structural materials. The inorganic glass fibers resist moisture absorption too, so it does not support mold growth and never deteriorates or decays.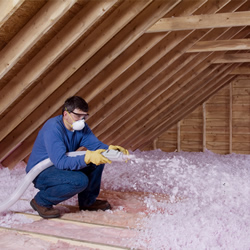 Receive a free no-cost evaluation and start saving money!